Solution Architecture
The solution architecture encompasses all of the components from the SAP CRM back-end enterprise system to the heterogeneous mobile device types used by the mobile workforce.
The architecture diagram represents the data flow and key components of the Sybase Mobile Sales for SAP CRM solution.
Multiple levels of data security are built into the solution, as represented by the padlock icons.
The BlackBerry Enterprise Server is an optional component of the solution, required only if BlackBerry devices are targeted.
SAP and Sybase components move data bi-directionally from the SAP back end to mobile devices and from mobile devices to the SAP back end.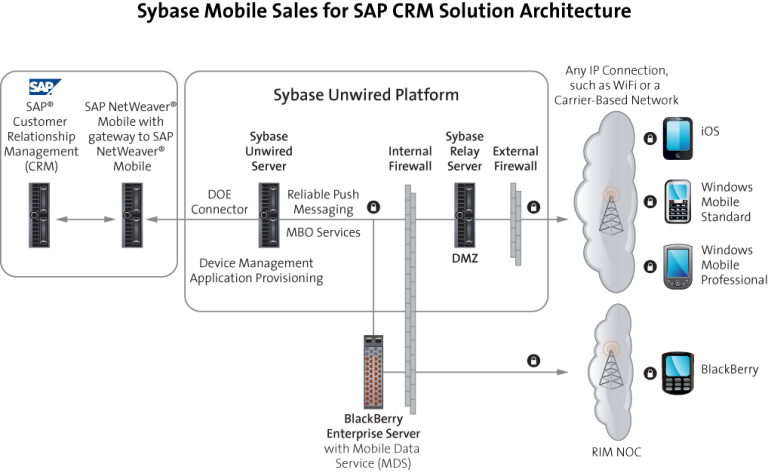 The key components of the architecture include:
SAP Landscape

SAP® Customer Relationship Management (CRM)
SAP NetWeaver® Mobile
gateway to SAP NetWeaver Mobile

Sybase Landscape

Sybase DOE Connector (DOE-C)
Sybase Unwired Platform
Sybase Relay Server
Sybase Mobile Sales for SAP CRM application, which runs on mobile devices

(BlackBerry) BlackBerry Enterprise Server (BES)
The following sections provide additional detail about the components that make up the SAP and Sybase landscape for this end-to-end mobility solution.
---
Created December 20, 2010. Send feedback on this help topic to Sybase Technical Publications:
pubs@sybase.com